Wickes approach to sustainability looks to ensure that all of our business practises meet the highest standards, both across our own operations and across our supply chain.
Working with our supply chain
We conduct our operations with honesty, integrity, openness and with respect for the rights and interests of our colleagues and others. We will not tolerate or condone any practices which are illegal or which may damage our reputation. The honesty and integrity of our colleagues and others that we work with is fundamental to our reputation and success. These qualities are embodied in our values, our Winning Ways, which underpin the way in which we operate. In order to supply Wickes, suppliers need to demonstrate that they share similar values to our own, especially when it comes to their employees, health & safety, the environment, business ethics & product quality. Our commitments are split across the 5 pillars.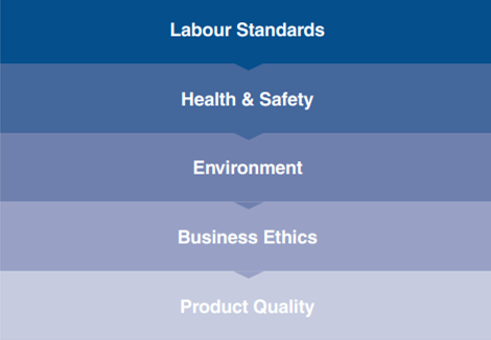 Our responsible sourcing Standards
Wickes suppliers and products are assessed to ensure they meet our quality, ethical, safety and environmental standards. We are a member of SEDEX, a leading platform that supports management and improvement of working conditions in supply chains.
Timber
Timber is central to our business, with over 45% of our products containing timber. It is an essential part of our business, and requirement for our customers.  Approximately 97% of Wickes timber is FSC or PEFC certified, and we are currently looking into ways of increasing the percentage of timber sourced through chains of custody, a process overseen by the WWF Forest and Trade Network. We also use track record global as part of our due diligence process to ensure UK timber regulation compliance.
PEAT
At Wickes we recognise the importance that peatlands have on our environment and the damage that has been caused from extraction to support horticulture. We are working closely with industry to develop sustainable alternatives that will perform satisfactorily at a value our customers have come to expect. We will continue to grow our peat-free options with the commitment to remove peat from our entire supply chain by 2025, five years ahead of the planned Government target of 2030.