Our business is built on the foundation of a sustainable, responsible supply chain. The vast majority of our impact as a business is in the indirect impacts of the products we buy.
We conduct our operations with honesty, integrity, openness and with respect for the rights and interests of our colleagues and others. We will not tolerate or condone any practises which are illegal or which may damage our reputation.
These qualities are embodied in our Winning Behaviours, which underpin the way in which we operate. In order to supply Wickes, suppliers need to demonstrate that they share similar values to our own, especially when it comes to their employees, health & safety, the environment, business ethics & product quality.
These values make up the five pillars of our supplier manual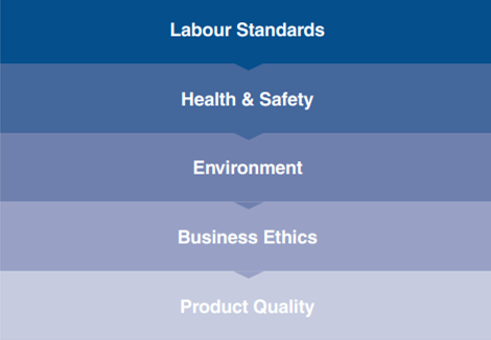 Our Responsible Sourcing Policy ensures that we source products and partners responsibly, and set minimum standards across our supply chain. This policy is intended to meet the relevant legislative requirements, as well as to provide confidence for our customers and stakeholders that Wickes is a trusted partner and retailer.
We maintain close relationships with suppliers of the products that we sell and only deal with those that can meet our high standards.  Suppliers must demonstrate that they operate ethically and in accordance with our standards that uphold human rights and safety, prohibit modern slavery and promote sustainable sourcing.
We regularly assess our suppliers and products to ensure they meet our quality, ethical, safety and environmental standards. We are a member of SEDEX, a leading platform that supports management and improvement of working conditions in supply chains.
Our Code of Ethics reflects our commitment to acting ethically and with integrity in all our business dealings and relationships and we expect full compliance with it by colleagues, suppliers and business partners.
Our statement made pursuant to the Modern Slavery Act 2015, which contains further information, is available here.